Isner prevails in Mahut epic
American finally edges past Frenchman in marathon match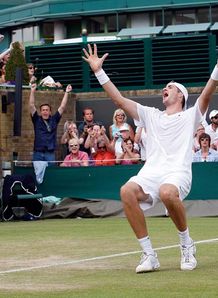 John Isner eventually got the better of Nicolas Mahut to bring to an end the longest-ever professional tennis match, the American prevailing 70-68 in the final set to move into the second round at Wimbledon.
The contest lasted an astonishing 11 hours and five minutes, the final set alone taking up eight hours and 11 minutes.
Back on Court 18, the players resumed at 59-59 on Thursday and the match remained on serve with both continuing to perform clinically on their own delivery.
Indeed, both men amassed more than one hundred aces during the course of the match, 23rd seed Isner Booming down 112 and French rival Mahut producing 103.
But Isner eventually made a decisive move in the 138th game of the final set as he forced a break point at 30-40.
Backhand winner
Despite getting in a big first serve, Mahut could not put his opponent away as he came to the net and the big American sealed victory as he ripped a backhand pass down the line.
Both players were presented with trophies to commemorate the match at its conclusion with Tim Henman and Ann Jones amongst those present to pass on their congratulations after a clash that will always have a place in the annals at SW19.
Isner now faces Thiemo De Bakker lies in the second round, the Dutchman having won an epic of his own in the first round - beating Santiago Giraldo 16-14 in the final set of his first encounter.
The American said of his gallant opponent after the match: "The guy's an absolute warrior. It stinks someone had to lose.
Honour
"To share this with him was an absolute honour. Maybe we'll meet again somewhere down the road and it won't be 70-68."
Mahut was gracious in defeat, admitting that despite the gruelling nature of the contest it had been a tussle savoured by both men.
"At this moment I'm just really thankful. It was amazing today," Mahut stated.
"John deserved to win. He served unbelievable, he's a champion. It was really an honour to play the greatest match ever at the greatest place for tennis. It was very long but I think we both enjoyed it."
Read more...