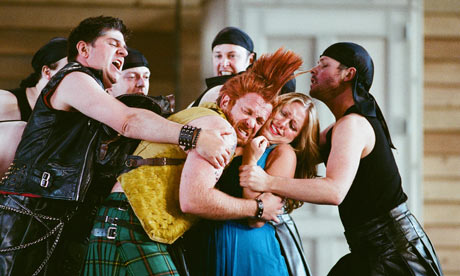 As the sun sank behind the Chilterns and a gnat-filled twilight gathered, an elegantly exploded pavilion set in a deer park underwent a miraculous transformation to become Britain's newest
opera
house: Garsington Opera, launched in Oxfordshire in 1989 but obliged to move following the death of its founder, Leonard Ingrams, has a new home on the Getty estate at Wormsley, Buckinghamshire. A fanfare commissioned from Jonathan Dove rousingly baptised the auditorium. Then came the opera, Mozart's
The Magic Flute
. This was truly some enchanted evening.
The temporary structure, which seems to float above the split-level landscape and looks out to a lake, has already won praise for its airy gracefulness. A year ago it was still on the drawing board. Designed by the architect Robin Snell, the building is a triumph: comfortable, with a lively acoustic, a big, open stage and a proper orchestra pit. Every practical detail has been thought out, with an equal emphasis on utility and simplicity. Any teething troubles were hard to find, though teeth were scarcely needed for the minuscule portions dealt out, with cheerful chaos, by the caterers, the ironically branded Jamie Oliver's Fabulous Feasts.
In all other respects, you can sense the guiding vision of Anthony Whitworth-Jones, general director, and the small, loyal team who worked to preserve – or create anew, since a rolling 2,500-acre estate cannot mimic a Tudor manor house in a village though most of us would settle happily for either – the intimacy which was a Garsington hallmark. Four hundred and seventy-seven private donors, including the Getty family themselves, raised the necessary £3.5m.
Lest you wonder what this kind of dressing-up, champagne-quaffing country house opera has to do with the art form itself, I should report that Mark Getty has said that "in due course" he wants the opera to be complemented by educational and other cultural activities, giving wider public access to the estate. Far more important – and you can never say it too often – is the energy this kind of private enterprise, as it soaks up money from the well-to-do, gives to the renewal of opera. Young singers and directors have a chance to learn roles and explore less familiar repertoire, even if box office favourites necessarily have to be a mainstay. This season Mozart and Rossini combine with a Vivaldi rarity.
The Magic Flute is always a challenge. Can anyone get it right? Heavy with spoken dialogue, dense with arcane symbolism and bursting with incomparable music, it defies logic and defeats reason. It needs, and rarely gets, singers who can speak lines and really act. This new production by Olivia Fuchs, updated to an eclectic modernity which embraces leather and chains and a yogic ashram, worked hard to offer a fresh interpretion.
A bike-riding Papageno (William Berger) wears a kilt, Doc Martens and an orange mohican. Prince Tamino (Robert Murray) is in jeans and the Three Ladies are scary dominatrices. It doesn't quite hit the mark, and Martin André, conducting, seemed uncertain about tempi. But there were many pleasures, notably the radiant and affecting Pamina of Sophie Bevan. Chorus and orchestra were strong and the stage images grew more enchanting as the darkness deepened.
Just up the M40, the English music festival, based at Dorchester, Oxfordshire, continues to expand, robustly ignoring those who assume "English" is synonymous with "little Englander". True it's an awkward title which five seasons on could be revised to reflect the specialised, but far from ring-fenced repertoire. "Away with those who snipe at 'cowpat' music," writes the festival's vice-president, the actor Robert Hardy, preferring the word "British". A slight repositioning, in this direction, could prove liberating, and help increase audiences.
The City of London Choir, Holst Orchestra, organist Stephen Farr and conductor Hilary Davan Wetton performed works by composers who all held the post of music director at St Paul's girls' school, London: Vaughan Williams, Holst, Howells and, neglected but still with us, John Gardner (b 1917). His short anthem "O Clap Your Hands" is a gem. At the time of its composition, Gardner bewailed attempts to bring "the atmosphere of the espresso bar to the chancel", which paints a jaunty picture of the Anglican church going to the dogs circa 1952.
Nearby at Radley college, the pianist Danny Driver delivered a formidable programme built around the Piano Sonata by Benjamin Dale (1885-1943). Written when he was a 19-year-old student, this 40-minute monolith survived on pianola rolls but was largely forgotten until the 1990s. This remarkable work unfolds with a similar wilful, chromatic freedom to Liszt's B minor Sonata. The delightfully communicative Driver, who has recorded it on Hyperion, gave a dextrous and persuasive performance.
Dale dedicated his youthful masterpiece to his friend York Bowen (1884-1961), whose own furious, yet wistful Sonata No 5 Driver also performed. Nicknamed "the English Rachmaninov", Bowen flowered at the wrong time, enjoying quaint success for his lush romanticism much as the tea-dance might in a disco age. He, you may recall, was the one who made jam, tended roses, held spiritual healing clinics at home with an Indian guru and liked to dismantle bicycles before concerts as a way of relaxing. Has the time come for this English eccentric to emerge from the margins at last?
Elgar, born a generation earlier, was determinedly unfazed by modernism, and his late Piano Quintet provided the climax to a 110th anniversary gala at Wigmore Hall. Completed in 1919 just after the Great War, this austere, haunting work had top interpreters in violinists Joshua Bell and Pamela Frank, violist Tabea Zimmermann, cellist Steven Isserlis and pianist Jeremy Denk.
Zimmermann conjures a unique, big-boned, golden tone. Without dominating this partnership of equals, she creates a sense that Elgar's harmonies are generated from an engine room bang in the middle of the stave, pushing upwards to Bell's rhapsodic, gypsy-like violin or down to Isserlis's pure, poetic cello. This mesmerising account bristled with the excitement of five world-class musicians giving their all. No wonder Wigmore ticket sales are up. And it was broadcast live for all to hear on BBC Radio 3. I am struggling to find something to complain about.