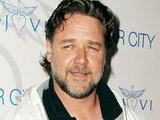 Russell Crowe
has fulfilled a longstanding promise to teach an acting class to students at Durham University.
Crowe made the promise around five years ago to his friend, author
Bill Bryson
, at a dinner party with mutual friends.
"It was quite a few years ago now," Crowe explained to
The Journal
. "Bill had just been appointed Chancellor of Durham University and I told him I would pay a visit.
"At the time I thought he would remain Chancellor until he was 105, but quite recently I read somewhere that he was leaving the position. I thought I had better get back in touch to keep my promise."
Crowe said he tried to teach the students to seek out projects they would enjoy, rather than to pursue fame and money.
"It's not about dollars or fame or success it's about pursuing the things that you love," he added.
Bryson said he was thrilled that Crowe had fulfilled his promise, and praised the actor for doing so well at passing on his experience to the students.
"He has found space in his life to do this, and not just to do it but to do it so well," Bryson told
BBC News
after the workshop. "It was an absolute inspiration to the students.
"He's given then 100% of his attention and all his energy. It was just fantastic."
Crowe recently wrapped up filming on the martial arts film
The Man with the Iron Fist
, but said that he plans to stay in
Australia
working on his own projects for the next year.